In All You Do uses affiliate links within its posts. You may read more on our disclosure policy.
Every school year I sit back and wonder if I'm really ready for all that's ahead. With each year, my kids get older and the work gets tougher. This year my oldest is officially entering high school, which means some added courses and more tracking on my end. And now I have two fifth graders that will be entering middle school next year with a third not far behind.
But what get me most is my lack of confidence. I am not at all confident in my abilities as a mother, let alone as a homeschool mom. I feel like at any moment I could make the wrong decision and fail them completely. I am not patient. I often lose my temper. And I hate crafts, which is unfathomable to my creative-minded daughter.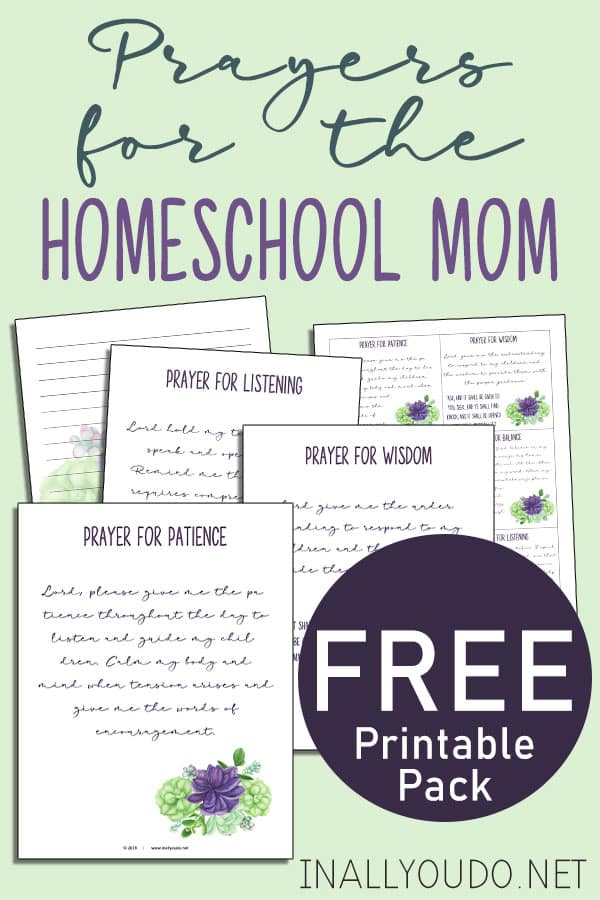 However, I have noticed one thing. When I begin my day with scripture, prayer and time with the Lord, things seem to run much smoother. My heart is aligned with His will for the day and I no longer have to stress about what will happen. I've laid it at His feet and let go of my own ambitions.
My perspective and attitude make a substantial difference in the emotional outcome of the school day. Whether you spend your mornings with a quick prayer to help you to start your day and turn to the Lord for guidance or you need a reminder during those tough moments, here are ten prayers for homeschool moms.
Prayer for Patience
Lord, please give me the patience throughout the day to listen and guide my children. Calm my body and mind when tension arises and give me the words of encouragement.
Prayer for Wisdom
Lord give me the understanding to respond to my children and the wisdom to provide them with the proper guidance. "Ask, and it shall be given to you; seek, and ye shall find; knock, and it shall be opened unto you." Matthew 7:7
Prayer for Strength
When I am weakened and unsure, give me the strength to rise against obstacles and challenges. Remind me that I can accomplish all things through you. "But they that wait upon the LORD shall renew their strength; they shall mount up with wings as eagles; they shall run, and not be weary; and they shall walk, and not faint." Isaiah 40:31
Prayer for Balance
Help me Lord to find balance in my life. Help me manage my home, school, family, work, and all the other obligations within my week. When my schedule feels overwhelming, please assure me that You are in control and give me the energy to continue through my day.
Prayer for Inspiration
Lord fill me with inspiration so that I can inspire, encourage and build up those around me. "Therefore encourage one another and build one another up, just as you are doing." Thessalonians 5:11
Prayer for Listening
Lord hold my tongue before I speak and open my ears. Remind me that listening requires comprehension and not just hearing of sound. Help me to listen genuinely, so that I can adequately guide these children you have entrusted to me.
Prayer for Energy
Motivate me, Lord, to accomplish all that You have planned for me. When I am overcome with exhaustion give me the energy to proceed.
Prayer for Creativity
Lord, you are the Master Creator! Open my eyes to see creation as the masterpiece that it is! Open my mind and inspire me to use the creativity that you have instilled in us all to inspire and teach in new and exciting ways.
Prayer for Being Receptive
Lord help me to be more receptive to those around me. If a suggestion is presented to me, help me to be considerate of everyone's advice.
Prayer for Health
Lord, please keep my family and me healthy through these coming days. Shield us from illness and heal us if we do become sick.
A new school year brings forth a new beginning. Take time to celebrate this journey in your family and use these prayers to keep you focused and motivated throughout these coming weeks and months.
NIV, Journal the Word Bible
ESV Journaling Bible
Tyndale NLT Inspire PRAISE Bible
I have created a simple printable pack to help you keep these prayers in front of you as an encouragement and promise as you walk through this homeschool journey. Included in this pack are ten posters with one prayer on each. Hang these up around your homeschool room to remind you as you teach.
Also included is a page of note size cards to cut out, laminate and place wherever you need them. I like placing them on my bathroom mirror or next to my bed as a quick reminder when I get up, take a rest or need a reset during the day. There are also two lined pages for you to use as journal pages to write down prayer requests, struggles or thoughts as you read through the verses. Print them as many times as you like.
Download the Prayers for the Homeschool Mom pack
To download the Prayers for the Homeschool Mom pack, simply add the product to your cart and checkout. **Upon checkout, you will be added to my Weekly Newsletter list.**
The following two tabs change content below.
Annette has been married to her husband and best friend since 2003. Together they are raising their six children to follow the Lord's will, no matter what. Annette longs for the day when she will meet all her angel babies who have entered heaven before her. She enjoys creating fun and engaging printables, unit studies and curriculum for homeschool families. You can follow her crazy life at
In All You Do
where she blogs about marriage, parenting, and homeschooling all while maintaining her sanity. She is also the owner of
Thrifty Homeschoolers
, where she shares free printables and resources from around the web as well as deals on curriculum and homeschooling resources. You can also keep up with her via
Facebook
,
Twitter
,
Instagram
and
Pinterest
.
Latest posts by Annette Breedlove (see all)