In All You Do uses affiliate links within its posts. You may read more on our disclosure policy.
NOTE: I received this product in exchange for a complete and honest review. I was not required to provide a positive review. All opinions are my own.
This is the day I've dreaded since I gave birth to my oldest – a boy. I always wanted both boys and girls, but the thought of boys going through puberty, quite frankly scares me. Of course, I've been married for over 12 years, so I know "how things work," but as far as puberty, I'm at a loss.
I'm gonna confess something…I know nothing about boys. In case you weren't aware, I'm a girl. So boy things…yeah – nothing. While I had 2 younger brothers, I was completely involved in ballet, orchestra and other music activities. Not to mention, we were pretty private in our house about puberty and such, so when it comes to my boys I'm a little clueless. Yet, I am responsible for them as they go through this life and these changes, which will likely start happening in a few years as my oldest is ten.
For years, my husband and I have agreed that I have the majority of responsibility of raising the children. At least in their formidable years. And that there would come a time and age, when my husband would need to step in as a man to help guide our boys as they grow in to men and possibly husbands and fathers one day. But, one thing we didn't really discuss was puberty and talking to them about sex. I mean, I knew we would "have the talk"…eventually, but I wasn't prepared.
What do I say?
How do we start?
How do I not embarrass them?
How soon is too soon?
How do we approach this Biblically?
How much do I interject?
How much do I leave to my husband?
So many questions flood my mind as the time draws closer for these conversations to begin. On one hand I'm terrified, because I don't know what to say or how to even begin. On the other hand, I'm terrified that the world will get a hold of him before I do. So the time is now. It is my job as a parent to protect him. Protect him from the world's influence and bring him up in God's Word and truth – especially about sex.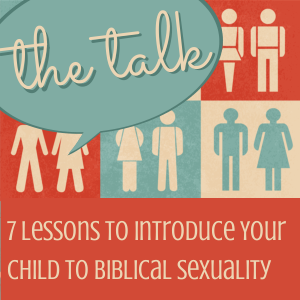 Before you jump in to the discussions on puberty, it is important that your child knows how their body works. Enter "modesty" by Luke Gilkerson of Intoxicated on Life. This book gives a starting point for parents to begin having open conversations with their kids about sex – the way God designed it. While I do believe children need to keep their innocence, in today's society it can be detrimental to their future life, wives and children if we wait to long.
Too many men – young and old – are addicted to porn because their curiosity was peaked. I don't want my sons (or daughters) to be one of those statistics. I've seen firsthand the devastation pornography can wreak on a marriage and family. So, while I wouldn't start specific talks with my kids at the age of 2, we do talk about modesty and keep our children separate, as far as bathing/showering, dressing and even sleeping, to protect them.
Now that our oldest knows about his body and is starting to notice girls' bodies, the time has come to talk more.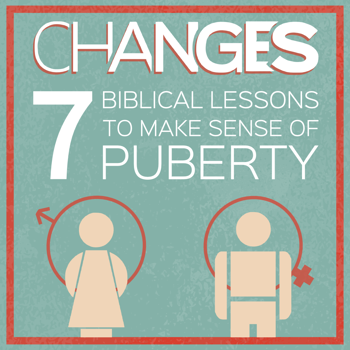 We have noticed changes starting to occur in him and it's time we address them before it goes too far. But, where do we start? Am I, a woman, qualified to help teach and lead my son through puberty effectively? After the holidays we plan to begin Changes, the sequel to The Talk. 
It's time to put aside my fears and step up. I want my children to be comfortable coming to me about anything – without fear or worry – and that includes sex and puberty. It is my job to keep them safe and protect them from "the world," but it is also my job to be available.
This study goes through 7 chapters to outline the changes that our bodies incur during puberty. From Jesus, who experienced the same changes, to hormones to becoming a woman/man. The format of this book lends itself to a nice, casual Bible study with your child(ren). It's very informal, so as to promote natural conversation between you and the child.
While this study is intended to be discussed over a seven day period, they could easily be extended to include more extensive discussions. Ultimately you know your own child(ren) best, so use your own judgement. This study is meant to be a guideline for conversations, but can be used as a script if you're unsure what to say (especially female to male and vice versa). It is also a challenge to us as parents that we model and maintain a high level of sexual integrity whether we're married or single. NOTE: I do recommend using one per child and not mixing sexes, so talk to your boys and girls separately about what they've read and learned. While they will learn about the other sex, they need to be free to share openly without feeling embarrassed by the opposite sex.
God has called me to be a parent. And I don't take that title lightly. In fact, it is the second most important title I hold, after wife. I will have to answer for my mistakes as a parent one day and I pray this is not one of them. I am so thankful to Luke and Trisha for following God's call and producing such amazing products – with one more in the series already in the works – about sensitive and traditionally taboo subjects. They have been such a blessing in our house.

The following two tabs change content below.
Annette has been married to her husband and best friend since 2003. Together they are raising their six children to follow the Lord's will, no matter what. Annette longs for the day when she will meet all her angel babies who have entered heaven before her. She enjoys creating fun and engaging printables, unit studies and curriculum for homeschool families. You can follow her crazy life at
In All You Do
where she blogs about marriage, parenting, and homeschooling all while maintaining her sanity. She is also the owner of
Thrifty Homeschoolers
, where she shares free printables and resources from around the web as well as deals on curriculum and homeschooling resources. You can also keep up with her via
Facebook
,
Twitter
,
Instagram
and
Pinterest
.
Latest posts by Annette Breedlove (see all)