In All You Do uses affiliate links within its posts. You may read more on our disclosure policy.
My Daddy
"For this reason I kneel before the Father,

from whom his whole family

in heaven and on earth derives its name.

I pray that out of his glorious riches he may strengthen you with power through his Spirit in your inner being,

so that Christ may dwell in your hearts through faith. And I pray that you, being rooted and established in love,

may have power, together with all the saints, to grasp how wide and long and high and deep is the love of Christ,

and to know this love that surpasses knowledge

–

that you may be filled to the measure of all the fullness of God.

Now to him who is able to do immeasurably more than all we ask or imagine, according to his power that is at work within us,

to him be glory in the church and in Christ Jesus throughout all generations, for ever and ever! Amen

."
If you're a regular reader of my blog, you probably know by now what family has gone through the past couple weeks. Well, yesterday (Saturday) was no different. We received more news about the cancer invading my daddy's body. There is a tumor on his bladder (likely where it all began) which has metastasized and spread to his lymph nodes, lungs, around his arteries and they are checking his kidney for blockage.
I'm sorry to say my initial reaction was human. I cried. HARD. I am not ready for my daddy to be gone. I admit I am selfish. I want my daddy here with me, but also for my kids. I was so blessed to grow up with all 4 of my grandparents alive and well. It was just 9 years ago that I lost my grandpa. The other three are still alive and well! I truly want the same for my own kids. I want them to know their Papa D and how generous, funny, loving, caring, kind, sweet, gentle he is. I want them to grow up listening to him sing praises to our Lord. I want them to have sweet memories of sitting in his lap for hours on end watching tv, reading a book or just sitting because they can.
Doctors have told us the tumor is inoperable. But, there are treatment plans available. My parents are talking through the options and praying for God's guidance. However, we know that God is MUCH, MUCH BIGGER than this!!! Last night was a sweet, sweet time of prayer in my Daddy's room. The elders and ministers gathered in his room to pray, followed by my oldest brother and 6 of his closest friends!! The Hubster and I were there with my brother and were so blessed and honored. Such sweet words were lifted up before our Heavenly Father. I am so thankful for these young men and faithful followers of Jesus Christ.
While visiting with my mother at the hospital, we found out a little more in detail about how the oncologist told them. She is the on-call doctor this weekend and the one assigned to my daddy. As she told them the extent of the cancer, she kept apologizing for having to be the one to tell them. My mother simply looked at her and said, "it's okay. God is in control and knew before you did and He knows the outcome. It's okay." She looked at my mother and said, "You're exactly right." After she left the room, my mother went out to the family who was there and relayed the news. As she approached my grandmother and aunt, the oncologist walked up to them and asked if she could pray with them!! WOW!!! And, my mom said "
…
boy did she pray!" The doctor was very emotional and told my mother that she was honored to pray with them. She was honored? How many times has a doctor said that?!
We serve a MIGHTY and POWERFUL God!!!! He can and will do miracles!! The verse for today was posted on a facebook prayer page for my daddy. What a fitting verse for this time. We only ask with our finite minds, but we really have no idea the awesome power our God has!!
Thank you for taking this journey with me and my family. This blog (especially my Sunday posts) have been so therapeutic for me. I process best when I write. So, thank you for letting me share my heart.
Annette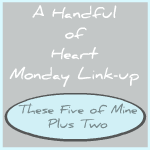 I'm linking up here today. Go on over and find more posts to help encourage you in your Christian walk!
The following two tabs change content below.
Annette has been married to her husband and best friend since 2003. Together they are raising their six children to follow the Lord's will, no matter what. Annette longs for the day when she will meet all her angel babies who have entered heaven before her. She enjoys creating fun and engaging printables, unit studies and curriculum for homeschool families. You can follow her crazy life at
In All You Do
where she blogs about marriage, parenting, and homeschooling all while maintaining her sanity. She is also the owner of
Thrifty Homeschoolers
, where she shares free printables and resources from around the web as well as deals on curriculum and homeschooling resources. You can also keep up with her via
Facebook
,
Twitter
,
Instagram
and
Pinterest
.
Latest posts by Annette Breedlove (see all)