In All You Do uses affiliate links within its posts. You may read more on our disclosure policy.
"The name of the LORD is a strong tower;
the righteous run to it and are safe."

Proverbs 18:10
How do you continue on with life when everything else seems to be spinning out of control? How do you find strength in the midst of trial?
I can tell you right now, it is not easy! In fact, it's down right tough!! Your life may not be perfect, but it's good and then one day
…
that's all gone.
Now, please here me out. It's not that your life all of a sudden become this horrible mess, but it's not what you're accustomed to. You're lost. You're wandering. So, how do you find your way back?
I can tell you with the utmost certainty that I would be absolutely LOST and in utter despair if I did NOT have my Faith in Jesus Christ to lean on!! My family and friends have been paramount during these past weeks. Our life will never be the same again. But, we will press on and move towards a new normal.
I am so thankful that the LORD is my one constant. No matter what else changes in my life, He is and was and always will be the same! And in that I can find rest, peace and safety.
I am also thankful for new blogging friends. Jacqueline put this verse in a comment a few weeks ago and it has really been a source of strength for me. Most of us know this verse well. But, it wasn't until I went through these past weeks with my Dad's illness and death that this verse really resonated with me.
I knew He was always with me. But, I've never felt His presence more than I have in the past few weeks. I may be sad, but I have a peace. A peace that literally passes all understanding. And in that…I am blessed!!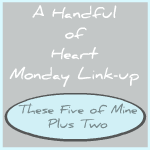 The following two tabs change content below.
Annette has been married to her husband and best friend since 2003. Together they are raising their six children to follow the Lord's will, no matter what. Annette longs for the day when she will meet all her angel babies who have entered heaven before her. She enjoys creating fun and engaging printables, unit studies and curriculum for homeschool families. You can follow her crazy life at
In All You Do
where she blogs about marriage, parenting, and homeschooling all while maintaining her sanity. She is also the owner of
Thrifty Homeschoolers
, where she shares free printables and resources from around the web as well as deals on curriculum and homeschooling resources. You can also keep up with her via
Facebook
,
Twitter
,
Instagram
and
Pinterest
.
Latest posts by Annette Breedlove (see all)