In All You Do uses affiliate links within its posts. You may read more on our disclosure policy.
Since we officially decided to homeschool our children (about 2yrs ago), I have done a lot of research online. I have researched curriculum, teaching styles, learning websites and so much more! I have "interviewed" friends who homeschool their children and I have prayed so much more than I ever thought I would (at least about homeschooling).
Our first year of homeschooling (last year), I had no idea what curriculum to go with or even what I wanted to use. I didn't like the idea of one entire set planned out for me. The strict-ness bothered me, which is weird since I love to be organized. I guess I'm just a rebel like that! So, in an effort to be
diverse
in my curricula, I gathered anything and everything I found. I searched at garage sales for books, math manipulatives, science experiment items and the list goes on and on.
Top Shelf: reading books (not in the curricula). Middle shelf: larger books that lie down & a craft bin.
Bottom Shelf: Another Craft bin and science supplements.
Quite frankly, it has gotten out of hand. I have an entire cabinet
FULL
of books for my kids!! I have purchased games
…
numerous games
…
in an effort to be more funin our learning. (I'm still working on this!) I am overflowing with books, puzzles, videos, craft supplies (which rarely get used) and actual curriculum that I can hardly stand it!!!
Here are most of the games we have. Some of them are hidden behind others.
The problem is that I don't know how to weed through these things. How do I choose what books to keep and what books to give away? How do I choose what puzzles to keep? Games? Craft supplies? UGH!!! It's just too much!
These are the puzzles we have.
I think I'm too afraid of throwing out something my girls might like that the boys could care less about. I don't want to go searching for things again in a few years. I have an almost irrational fear of getting rid of things I might
…
someday
…
use in the future. It's silly, I know.
The right side contains all our Brainy Baby books, videos and flashcards.
The other side is overflow.
So, now I must figure out how to sort through everything and not feel guilty when I get rid of things. And that
…
that's going to take some time!
These buckets contain curriculum we use daily/weekly.
One bucket per child, my teacher's bucket and a craft bucket.
So, how do you weed through your curriculum? Do you re-organize every year? Do you have a method for cleaning out old curriculum? Share your tips and ideas!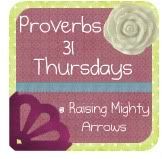 The following two tabs change content below.
Annette has been married to her husband and best friend since 2003. Together they are raising their six children to follow the Lord's will, no matter what. Annette longs for the day when she will meet all her angel babies who have entered heaven before her. She enjoys creating fun and engaging printables, unit studies and curriculum for homeschool families. You can follow her crazy life at
In All You Do
where she blogs about marriage, parenting, and homeschooling all while maintaining her sanity. She is also the owner of
Thrifty Homeschoolers
, where she shares free printables and resources from around the web as well as deals on curriculum and homeschooling resources. You can also keep up with her via
Facebook
,
Twitter
,
Instagram
and
Pinterest
.
Latest posts by Annette Breedlove (see all)