In All You Do uses affiliate links within its posts. You may read more on our disclosure policy.
Since our kids could start talking, we have made it our goal to help them memorize longer passages of Scripture—often whole chapters at a time. We were inspired listening to our pastor who will often stand before our congregation and, in the middle of a sermon, pull an entire chapter of the Bible from his head, speaking it as naturally as his own thoughts.
We love helping our kids memorize long texts because the Bible isn't just thousands of isolated verses. Each book, each section, has a flow of thought. We don't just want our children to know the words of God. We want them to know how to reason and think like God.
So where do you start? There are many worthy chapters of the Bible to memorize. Which long section of Scripture is good for your youngest kids?
3 Important Factors to Consider When Choosing a Long Passage
When we were looking for longer texts to memorize, there were 3 types of passages we were looking for…
1. We wanted a longer text that targeted specific weaknesses in our kids' behavior and attitude. What sinful attitudes or actions do you see in your child on a regular basis? Find a longer text of Scripture that focuses clearly on those problems.
2. We wanted a longer text that gives our kids the motivation to obey God, not just a reminder to do it. It is one thing to say, "Be good." It is another to say, "This the blessing that comes to you when you are good." Find a passage of Scripture that breathes with great promises and joy.
3. We wanted a longer text that focuses our kids' attention on Jesus, not just their own performance. In the end, our children will fail in their attempts to obey God, so the focus of their thinking should no be on their own performance or failures but the obedience of Christ on our behalf.
Why We Love Philippians 2:1-18
My husband and I both love Paul's letter to the Philippians—it is one of our favorite Bible books. But as we were reading through it several years ago, we were struck by how the first 18 verses in chapter 2 satisfied all three of our desires for a longer memory text.
1. Philippians 2 targets the sin of selfishness. I don't know any kids that are paragons of humility and sacrificial love. Come to think of it, I know very few human beings that are great at humility—at least not without decades of practice. Philippians 2 unpacks the sin of selfish ambition and teaches about the virtue of humility like no other text.
2. Philippians presents more than a dozen motivations to be humble. It doesn't just tell our kids that humility is good. It tells them why it is good. The text uses a lot of loaded phrases like, "if you have any encouragement in Christ," "complete my joy," and "that you may be blameless and innocent." These any many other phrases are presented in Philippians as a motivation for being humble. Talking through this text with you kids, little by little, can inspire amazing results.
3. The real star of Philippians 2 is Christ. No other text in the Bible explains and celebrates Jesus becoming a man like Philippians 2. Jesus is presented as the ultimate example of humility. God the Father exalted him to the highest place because of his selfless service.
Making Philippians 2:1-18 Our Family's Memory Passage
A few years ago we decided to memorize Philippians 2:1-18 as a family. We decided to tackle this in several ways.
1. Memory Time – We had a dedicated "memory time" in the morning where we just worked through things the kids were memorizing for school: math facts, vocab words, poems, and catechism questions. We added this passage to the mix. (We used a "memory box" to do this. You can download and print out the ESV cards we used, or if you prefer KJV, you can use these.)
2. Family Bible Study – Each night for family devotions, we looked just one phrase at a time and talked about what it meant in the context of the whole passage. (If you want to check out my husband's Bible study, it is called The Heart of Humility.)
3. Copywork – We had our oldest son practice his handwriting using this passage. Several days a week he wrote out lines of this passage over and over to sharpen his handwriting skills. (I ended up creating several handwriting workbooks based on Philippians 2, both in ESV and KJV.)
What about little kids?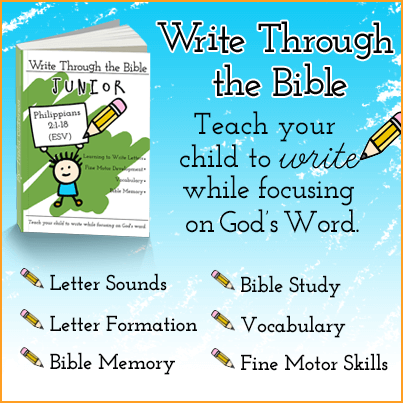 Now that I have three-year-old twins, I wanted more creative ways to help them memorize and think about Philippians 2. After a couple of years of people download and buying our original handwriting workbooks, I ran into more and more moms like me who wanted something for their youngest kids who are just now learning to write.
With Write Through the Bible, Junior, you can complete several subjects at once. This curriculum will allow you to teach your child to write, discuss new vocabulary words, dig deep into the Word of God, and memorize a long passage of scripture together.
Not only that, but there is virtually no preparation! There aren't any involved crafts that take weird supplies. Everything you need for this curriculum you probably already have at home.
Features
This program was designed to incorporate several subjects in one. Below are a few things your child will learn as they work through this book: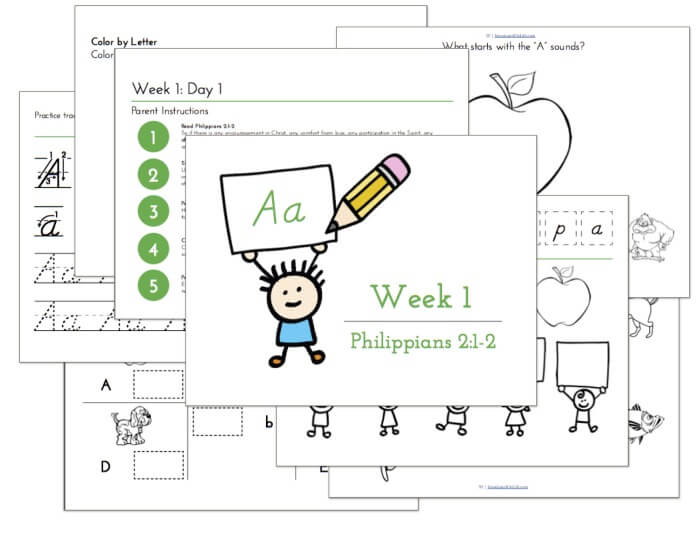 Improve fine motor coordination
Learn letter sounds
Learn how to form letter
Memorize Philippians 2:1-18
Learn new vocabulary words
Study Philippians 2:1-18 and learn what it means to have a heart of humility.
In addition, this full-year program is very affordable costing just $17 for the digital download or $27 for the softcover book.
Trisha is the happy wife to Luke and proud, homeschooling mama to 4 fabulous boys. She enjoys writing and creating resources with her husband at their blog Intoxicated on Life. Sign up to their family newsletter to receive lots of free parenting and homeschool resources!
Did you miss a post in our 30 Days of Bible series? Check them all out by clicking the image below.
The following two tabs change content below.
Annette has been married to her husband and best friend since 2003. Together they are raising their six children to follow the Lord's will, no matter what. Annette longs for the day when she will meet all her angel babies who have entered heaven before her. She enjoys creating fun and engaging printables, unit studies and curriculum for homeschool families. You can follow her crazy life at
In All You Do
where she blogs about marriage, parenting, and homeschooling all while maintaining her sanity. She is also the owner of
Thrifty Homeschoolers
, where she shares free printables and resources from around the web as well as deals on curriculum and homeschooling resources. You can also keep up with her via
Facebook
,
Twitter
,
Instagram
and
Pinterest
.
Latest posts by Annette Breedlove (see all)