In All You Do uses affiliate links within its posts. You may read more on our disclosure policy.
A few days after we brought our first child home from the hospital, I felt completely lost.
Granted, some of this was probably caused by postpartum hormones that were all over the place. And I'm sure the lack of sleep didn't help either.
Regardless, I felt completely overwhelmed.
I thought I would feel better if I read parenting books and articles, but instead, I actually felt more overwhelmed. It was information overload at its finest.
Sometimes, we make parenting harder than it has to be.
We're too hard on ourselves and expect too much out of both ourselves and our kids.
That's why I'm excited about this new 4 week Biblical parenting challenge that runs through the entire month of December.
It's not going to provide a ton of new ideas that will only make you feel worse. Instead, it will offer one challenge each week, along with weekly devotionals designed to encourage and support YOU as the parent.
Here's what you'll get if you sign up for this free challenge:
4 FREE devotionals from the book, Searching for Sanity, written BY a parent, FOR parents and delivered to your inbox 
4 weekly challenges to help you become a better mom (these will be published each Monday on my blog, www.lindseymbell.com) 
Activities to do each week (that are short and very doable) 
Start your 4-week Biblical Parenting Challenge today!
Or, if you'd like to know more about the book you'll be reading throughout the challenge, here's some info: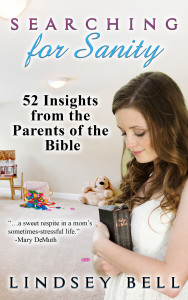 Have you ever looked at your beloved children and wondered: What in the world am I doing? Why did God trust me of all people to raise them? Motherhood is the most difficult job many of us will ever take. Moms today are busy, overwhelmed and stressed. Many feel underqualified.
Searching for Sanity offers moms an opportunity to take a breath, dig into the Word, and learn from parents of the past. In short devotions designed for busy moms, this book explores the parents of the Bible both the good and the bad. Some of the parents within the pages of God's Word set great examples for us to follow; others made huge mistakes. In Searching for Sanity, you'll learn from both.
The wisdom of God's Word, paired with the experiences of another mother-in-training, will help moms find sanity in the midst of chaos.
Sign up for the 4-week Biblical Parenting Challenge today!
This post is part of the Marriage & Motherhood Mondays series. To see others in this series, simply click the image below.
The following two tabs change content below.
Lindsey Bell is the author of 
Unbeaten and
Searching for Sanity
. She's also a stay-at-home mother of two ornery boys, a minister's wife, an avid reader and a chocolate lover. You can find her blogging about faith, marriage, family, parenting and miscarriage over on
her website
. You can also keep up with her on
Facebook
,
Twitter
and
Pinterest
.
Latest posts by Lindsey Bell (see all)