In All You Do uses affiliate links within its posts. You may read more on our disclosure policy.
With a wide variety of ages in our home, it is often difficult to find a curriculum that works for all of them. Especially when it comes to the Bible. Over the course of the past few years, we have tried several different ones and while they were great resources, they just didn't seem to completely fit our family.
With my husband a pastor, it is often perceived that we have it "all together" in this area. SO. NOT. TRUE. Often times this is the most difficult curriculum for me to find, because we are so selective in what we allow in to our home. And that includes Bible curriculum. We are not about fluff or froo-froo when it comes to studying God's Word. So, instead we have just done Bible reading and discussion for most of our studies, which worked great for our oldest, but not so much for the younger kids.
So I once again set out on a search for a Bible curriculum. Before I started my search, there were several things I wanted in a curriculum.
Easy to use
Suitable for a wide range of ages
Encourages Bible Memorization
Promotes critical thinking of the text
Last year we tried Write Through the Bible from Intoxicated on Life for our oldest, which was fantastic, but they didn't have anything for the younger ones – until now. Several weeks ago, Trisha and Luke approached me about reviewing their newest product – Write Through the Bible Jr. I was beyond thrilled when I saw the product!! It is precisely what I have been looking for in a Bible curriculum. The Junior version is perfect for our Middles as they are working hard on learning their letters and sounds. (And yes, we do school in our jammies most days. It's just how we roll.)
Each week they focus on a letter through various handwriting activities as well as fine-motor skills, all while working through a section of the Bible. A sample week looks like this: Handwriting practice and letter sound recognition, cut-and-paste activity, do-a-dot marker page and recognizing beginning sounds.
Each week I write the verse on our wipe board so Mister Bull and I can read it together as the others follow along. This picture shows the first two weeks of verses. I have the first week's focus word in blue and the current week's word in red. Each week the Junior version focuses on one word in the verse that either starts with or contains the letter of the week.
I was thrilled to find that Trisha and Luke have also created a fun-filled
preschool curriculum
that would set our youngest, 3 year old Punkin, up for success in handwriting and Bible as she moved forward. These FREE printable packs
encourage fine-motor coordination
that coordinates perfectly with our weekly Write Through the Bible Junior curriculum the Middles are using. Included in this pack are
Wikki Stix
Fun Mats,
Playdough
mats, Image Glossary pages and Alphabet Picture Cards. There are also some fun Learning to Draw by Grid in Beginner, Intermediate and Advanced versions, which all my kids love.
Punkin's favorite things to do each day are the Wikki Stix mats and the Playdough mats. She begs to "do Bible Time" each day, which makes my heart happy. She does very well listening to us reading our verses each day and then calmly plays with her mats while I work with the Middles on their papers. It has been wonderful to see her really blossom and enjoy doing "school" work like her older brother and sister.
Each week I laminate the Wikki Stix mats and the Playdough mats so they can be reused. If you don't own a laminator, I highly recommend this one! We also use the Wikki Stix mats with our dry-erase markers so Punkin can practice tracing her letters when she wants to. And of course…the Middles have to join in the fun as well.
I was thrilled to know that this exact set of verses came in the original WTTB curriculum in cursive, which is perfect for Mister Bull. We have had to rearrange the lessons a bit for him to keep up with the pace of the younger kids' lessons, but they are working fine for him. What I like about the older kids' version is they have to write the verse several days in a row, then they define several key words in the verse so they can better understand and comprehend the meaning of the verse. This isn't just a rote memory curriculum – they are truly learning the meaning of the verses. And that was the selling point for me! And sometimes even big brother likes to help Punkin out so he can join in the fun!
So far, we are loving this new curriculum and new structure of Bible time together. Some days we get it done in the morning and other days it's in the evening. But no matter the time of day, it's done all together and everyone enjoys learning together. AND…there's very little prep time involved for me, which is always a PLUS!!

There are several options for this new product. It is available as a
downloadable product directly from Intoxicated on Life
for
just $17
!!! Or if you prefer a printed book, you can get it in
softcover from Amazon
for just $27!!
Other options include:
KJV Bible Translation
ESV Bible Translation
Ball & Stick Manuscript
D'Nealian Manuscript
Cursive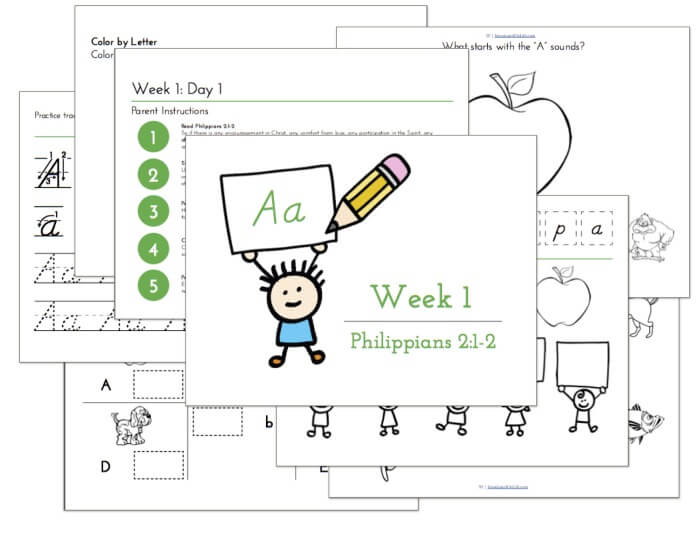 The following two tabs change content below.
Annette has been married to her husband and best friend since 2003. Together they are raising their six children to follow the Lord's will, no matter what. Annette longs for the day when she will meet all her angel babies who have entered heaven before her. She enjoys creating fun and engaging printables, unit studies and curriculum for homeschool families. You can follow her crazy life at
In All You Do
where she blogs about marriage, parenting, and homeschooling all while maintaining her sanity. She is also the owner of
Thrifty Homeschoolers
, where she shares free printables and resources from around the web as well as deals on curriculum and homeschooling resources. You can also keep up with her via
Facebook
,
Twitter
,
Instagram
and
Pinterest
.
Latest posts by Annette Breedlove (see all)