In All You Do uses affiliate links within its posts. You may read more on our disclosure policy.
With our first child, we definitely went overboard with Christmas every year. My husband and I both grew up in houses where Christmas was celebrated to the fullest, so, of course, we wanted to do the same for our kids.
Not long after we had our 4th child, we moved from Oklahoma to Indiana. And the amount of toys that filled the moving truck was…embarrassing. We had more toy boxes than clothes, dishes or anything else combined!
That's when we decided we needed to make some changes in the area of gifts. Since we homeschool, we wanted to give our children experiences over toys and things. But we also wanted to give some fun, non-toy gifts too!
Whether we intend to or not, we can all go a little overboard with the Christmas gifts. By the time the year is done, we are left with a pile of toys and other Christmas gifts that will find their way into the Goodwill pile before the end of next year. If you are wanting to put a focus on non-toy gifts this year, here are a few gift ideas that are perfect for your kids!
Young Kids 4-7
Kids for Cooking Class – Whether you have a budding chef or just want your kids to be able to cook their own meals, I highly recommend a cooking class. Kids Cook Real Food is an online cooking class that will teach your children from the basics of knife skills to more advanced meal preparations, all for a reasonable price.
Velvet Coloring Posters – If your children like to color, they are sure to love these fun velvet coloring posters. These put a new spin on coloring pages and can make some fun "artwork" to put up in their room too!
Audiobooks – Audiobooks are great for several different reasons. Whether you have a struggling reader or you're taking a long trip, audiobooks are a great way to bring everyone together around a good book.
Floor Puzzle – Even if you don't have a playroom, floor puzzles can be great fun! We own several, including the alphabet, numbers, United States map and more! My kids love putting the oversized pieces together and learning at the same time!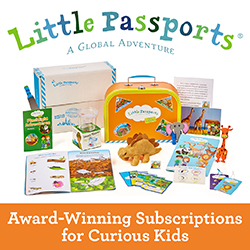 Little Passports
– If you're looking for a fun way to teach geography to your little ones, check out Little Passports. Little Passports is a monthly subscription box that includes everything your little explorers need to discover the world through fun and engaging activities.
Preteen 11-12
Magazine Subscription – My kids love getting their LEGO magazine every quarter, but my oldest has now outgrown them. Now he is more interested in Popular Mechanics. There are quite a few options perfect for your preteen!
Board Games – We love playing games in our house and board games are definitely a favorite. Not only are they a fun way to spend some family time, but they can be educational too.
Piggy Bank – Do your kids make an allowance doing chores? Help them learn how to save their money for bigger and more expensive items, rather than spending it right away by giving them a piggy bank.
Subscription Box – Subscription boxes are a fun, non-toy option for kids. There are quite a few different companies, but I love that Kiwi Co. box offers not only age appropriate options, but also different subjects!
Dare to Dream Craft Kit – This is the perfect place to capture your own personal vision. Collect and display all things uniquely you. Wooden planks come ready to assemble and paint. Arrange the clothes pins and sweet embellishments to suit your style. Learn Decoupage art and complete your mixed media look. Girl, you got this! includes all the hanging cord and assembly hardware needed!
Teens 13+
Event Tickets – Whether it's for a concert, theatre performance or sporting event, there is probably an event your teen would love to see! Surprise them with tickets and a night out with just the parents.
Kindle Unlimited Subscription – If you have a voracious reader, I highly recommend getting them a Kindle Unlimited Subscription! This is the perfect compromise to almost daily library trips, piles of books showing up and a child that loves to read! Plus, you get a 30-day FREE trial, so you can check it out together first!
Wreck this Journal – This journal allows kids to create, explore and share whatever they want in a unique way – their way. Cut, paste and glue, write in calligraphy or draw about your week and express your feelings without worrying what others think!
Adult Coloring Book – Even my little ones love the intricate coloring pages of adult coloring books. You can choose from animals to flowers to faith scriptures to geometric and so much more! There truly is something for everyone.
Headphones – As a traveling family with 6 kids, headphones are a life saver! While we continue to monitor and give time limits on their devices (even in to the teen years), they must wear headphones anytime they are playing a game, movie or listening to music.
Whether you're trying to clean out the house, teach moderation or moving more toward a minimalist lifestyle, I hope these have given you some great ideas on non-toy gifts for your kids this year.
The following two tabs change content below.
Annette has been married to her husband and best friend since 2003. Together they are raising their six children to follow the Lord's will, no matter what. Annette longs for the day when she will meet all her angel babies who have entered heaven before her. She enjoys creating fun and engaging printables, unit studies and curriculum for homeschool families. You can follow her crazy life at
In All You Do
where she blogs about marriage, parenting, and homeschooling all while maintaining her sanity. She is also the owner of
Thrifty Homeschoolers
, where she shares free printables and resources from around the web as well as deals on curriculum and homeschooling resources. You can also keep up with her via
Facebook
,
Twitter
,
Instagram
and
Pinterest
.
Latest posts by Annette Breedlove (see all)