In All You Do uses affiliate links within its posts. You may read more on our disclosure policy.
We are in our seventh year of homeschooling and truthfully…I thought it would get easier. I mean, I've taught three kids their numbers, letters, sounds and how to read. So why was our fourth child so hard to teach? She loves to color, draw and has the imagination of a Disney writer.
When we began Kindergarten with her last year, I realized very quickly she was struggling. The curriculum we used for the others is wonderful, but she just wasn't grasping it. She just wanted to have fun. And it was fun…for a while. Until I saw she wasn't retaining any of the information we had covered in previous weeks or even just days before.
That's when I knew we needed a change. Maybe a different approach would work? So, we tried more hands-on activities like our playdough mats to help her with more tactile learning of letters and numbers.
It went well…for about 2 weeks. Then I realized once again, it just wasn't clicking with her.
I was at a loss.
I had no idea what to do.
She loved learning and could remember the words to songs she'd only heard once, but not the names of letters or numbers. I had to think quickly. She was falling further and further behind and was surely going to graduate without knowing how to write her name if we didn't get this figured out.
After all, she was FIVE and ready for Kindergarten, or so I thought.
So, what if Your 5 Year Old Isn't Ready for Kindergarten?
As homeschoolers we pride ourselves on teaching each child at their level, not pushing them into a mold created by society. And here I was pushing her in to the "public school mold" just because she had turned five. However, as I thought about it more and more, I realized that had she gone to public school and started that year, she would have turned 5 after school started!
That's when I told my husband, we were waiting another year to officially start her Kindergarten lessons.
So what do we do in the meantime? I had a plan!
I knew we couldn't just keep on "playing to learn" and not help push her along a little, yet I didn't want to frustrate her either. I had been working on my next eBook and thought it would be the perfect solution. It was a fun combination of short lessons, fun activities that all led to learning letters. We could do as much or as little as she wanted combined with other activities to make them fun and hopefully help set the foundation for next year.
Apples to Zebras
I printed out the first letter in the book and was thrilled with her excitement. She loved working on her letters and doing papers like her brothers and sister. At this point, school was fun and she was now included.
Apples to Zebras is designed for a 3-day week schedule, so we chose to do Tues-Wed-Thurs, as Mondays are usually very busy getting the older three kids settled back in to our school routine and Fridays my husband was off. However, you could easily expand the lessons to be a 4- or 5-day schedule.
The lesson plans are flexible to fit a variety of learning styles while reinforcing the letters of the week. Every 4th week there is a review lesson to help them remember the previously learned letters. There are hands-on activities for every letter, plus some bonus printables at the end of the workbook – from puzzles to flashcards and more!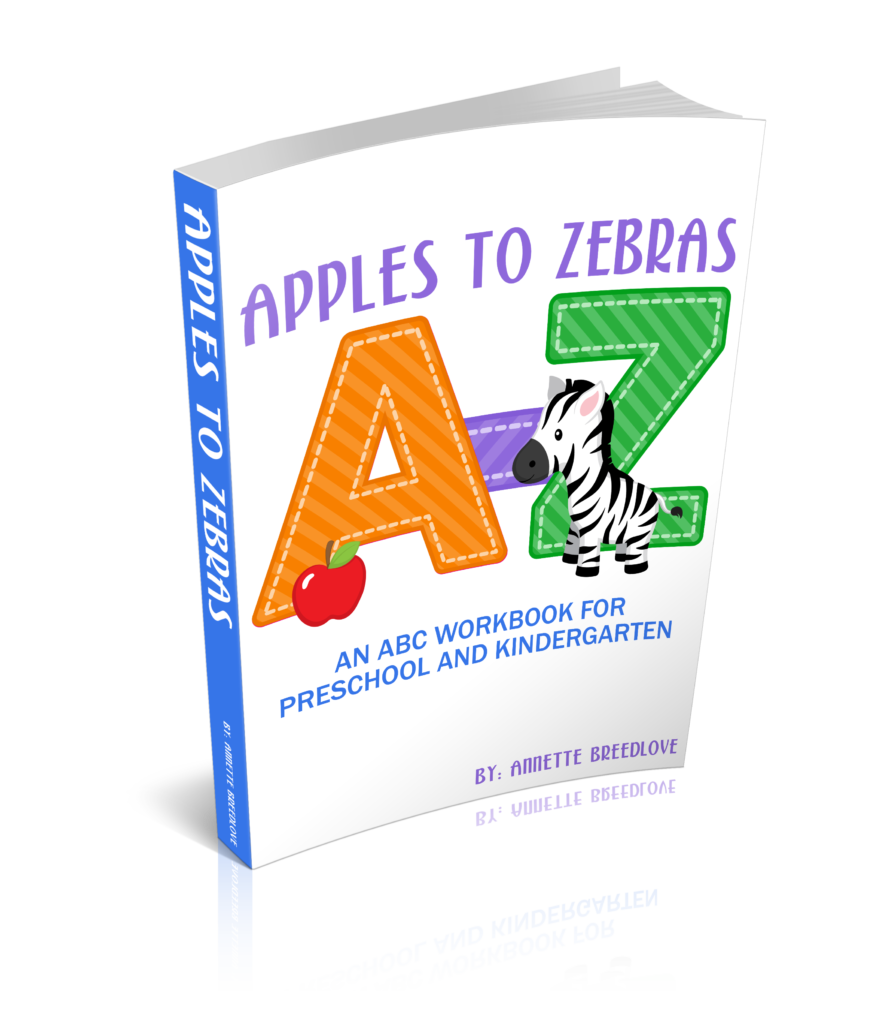 This 680+ page digital download is the perfect way to get kids started learning their letters while working on their handwriting and beginning sounds. My daughter has done well this year working through the book and enjoyed hands-on activities as well as the relaxed lessons.
As we move in to Kindergarten this year, we will go back through these lessons and add in even more activities and learning opportunities, because I feel she is ready. We may still struggle, so I like that we can finish the "workbook" in 3 days, but do more or less depending on her comprehension of the letters.
BUY NOW
Simply add the product to your cart and at checkout, you will automatically be added to my subscriber list.
**I have had several inquires about why this is not available in a printed and bound version. I am sorry for the inconvenience. As much as I would like to, at this time this is just a digital product. This is a DIGITAL product, no physical product will be shipped.**
The following two tabs change content below.
Annette has been married to her husband and best friend since 2003. Together they are raising their six children to follow the Lord's will, no matter what. Annette longs for the day when she will meet all her angel babies who have entered heaven before her. She enjoys creating fun and engaging printables, unit studies and curriculum for homeschool families. You can follow her crazy life at
In All You Do
where she blogs about marriage, parenting, and homeschooling all while maintaining her sanity. She is also the owner of
Thrifty Homeschoolers
, where she shares free printables and resources from around the web as well as deals on curriculum and homeschooling resources. You can also keep up with her via
Facebook
,
Twitter
,
Instagram
and
Pinterest
.
Latest posts by Annette Breedlove (see all)