In All You Do uses affiliate links within its posts. You may read more on our disclosure policy.
For hundreds of years boys have played cowboys and indians, knights and dragons – anything that let's them "conquer the enemy". So naturally my kids were thrilled when they released the first How to Train Your Dragon movie.
We rarely see movies in the theater, so when it was available at the Redbox, we rented it immediately. I swear they watched that movie 10 times before we had to return it. After they professed their love of the movie for weeks, we finally broke down and bought it for them. And they loved it still.
They were just as excited when the second movie was released, as well as the Netflix series and extras. So you can imagine their elation when the third movie release was announced last year! You know me, I never miss an opportunity to sprinkle in some learning to our day! So of course, I had to have a movie study for How to Train Your Dragons 2, in preparation for the upcoming third movie release.
This study includes 4 pages of activities related to the second movie. These activities are perfect for upper elementary kids, but could be easily adapted for younger children too. Older kids might like these activities as the prepare for a paper or project.
Discussion Questions
Discussion Questions are a great way to help kids work on their comprehension skills. You can also use the discussion questions to help them start a paper. The answers can be the points for an outline or to help them write a simple summary of the movie.
The discussion questions are great for kids of all ages. You can ask them in a group format or give each child a copy of the questions and have them write out their answers on their own paper . Giving them their own paper sneaks in a little handwriting and spelling practice too!
Create Your Own Dragon
What kid hasn't dreamed of creating, or even owning, their own dragon?! I know my kids have! Every time the watch the movies or shows on Netflix, all they can talk about for days is what their dragon would look like, act like, be like. They create names and personas for their dragons. This page is perfect for letting them actually draw their imaginations!
Check out our Movie Review to extend the learning!
Compare & Contrast
If they've seen the second movie, chances are pretty high they've seen the first one. This page lets them explore the similarities and differences between the two movies. I love using compare and contrast exercises to help them think through the entire movie. Have them write anything and everything they can think of on this Venn Diagram. From there, you can encourage older children to write a paper based on that information!
Create Your Own Story
Does your child love to use their imagination and create new stories? This page will help them do just that using simple prompts to get them started. This is a wonderful brainstorming page that can easily turn in to a creative writing project or paper. And don't just limit them to rewriting a story for Toothless and Hiccup, let their imaginations run wild!
Have a Dragons Movie Marathon
Whether you're going to see the second movie in the theater or not, why not have a fun Dragons Movie marathon! Some of them have been on Netflix from time to time, so don't forget to check there for some Dragon movies. But if your kids love them as much as mine, you might want to purchase them as well. Then invite some friends over and have a fun Dragon themed movie marathon and party!
Toothless Cupcakes and other Dragon Treats | Crazy Little Projects
Toothless the Dragon Cookies | A Mom's Take
How to Train Your Dragon Party Food | Life is a Party
How to Train Your Dragon, Dragon Cookies (How to Decorate) | Haniela's (YouTube video)
How to Train Your Dragon, Viking Helmet Cookies (decorating) | Haniela's (YouTube video)
Dragon Crafts | Kix Cereal
Easy Toothless Cupcakes | Midget Momma
Dragon Mix | Sippy Cup Mom
Toothless Toilet Paper Roll Craft | The Keeper of the Cheerios
Toothless Slobber (Slime) | Parenting Chaos
How to Train Your Dragon

How to Train Your Dragon 2

DreamWorks How to Train Your Dragon Legends

How To Train Your Dragon – 10 Book Set

Toothless 14-inch Deluxe Plush Dragon

Lightfury, 14-inch Deluxe Plush Dragon

7 Pcs How To Train Your Dragon Action Figures

The Complete Book of Dragons: A Guide to Dragon Species

Funko Pop! Movies: How to Train Your Dragon 3 – Toothless

Download your Dragons Movie Study today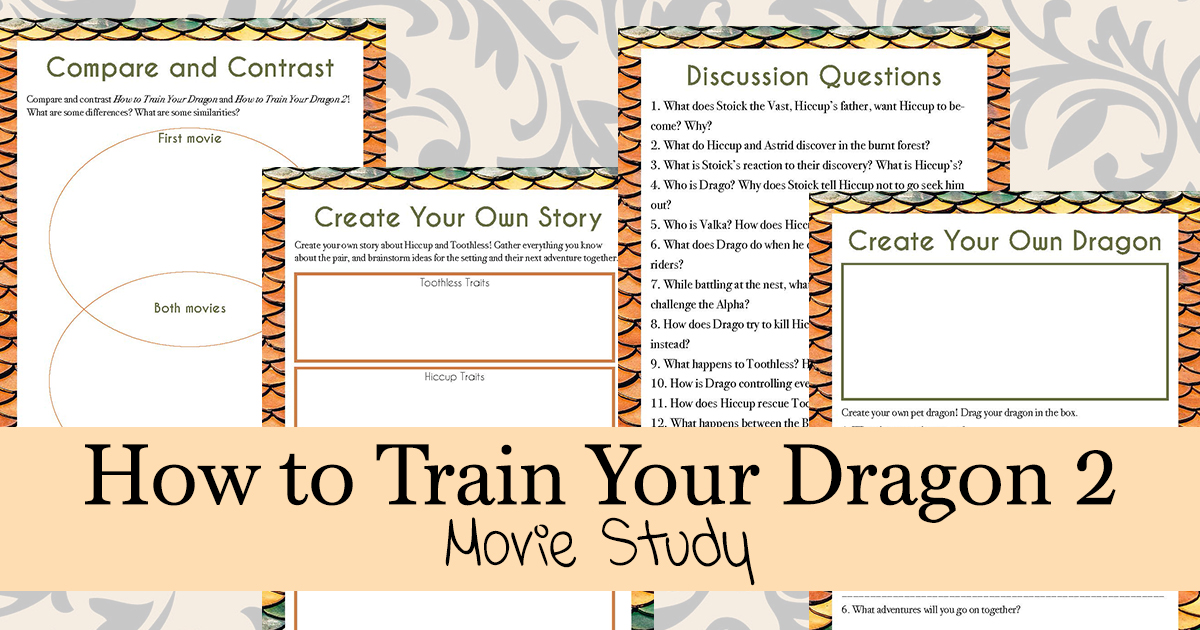 If your kids love How to Train Your Dragons 2, they will love working through this movie study based on the second film. This movie study is a fun way to bring some learning to your home through movies!
To download the Train Your Dragons 2 Movie Study, simply add it to your cart and then checkout. **Upon checkout, you will be added to my Weekly Newsletter list.**
The following two tabs change content below.
Annette has been married to her husband and best friend since 2003. Together they are raising their six children to follow the Lord's will, no matter what. Annette longs for the day when she will meet all her angel babies who have entered heaven before her. She enjoys creating fun and engaging printables, unit studies and curriculum for homeschool families. You can follow her crazy life at
In All You Do
where she blogs about marriage, parenting, and homeschooling all while maintaining her sanity. She is also the owner of
Thrifty Homeschoolers
, where she shares free printables and resources from around the web as well as deals on curriculum and homeschooling resources. You can also keep up with her via
Facebook
,
Twitter
,
Instagram
and
Pinterest
.
Latest posts by Annette Breedlove (see all)