In All You Do uses affiliate links within its posts. You may read more on our disclosure policy.
Summer may seem like a strange time to wear skirts, but I find them wonderful. As I got older, I rarely wore shorts outside my house – so I never really reaped the benefits anyway. But skirts, yeah…the nice subtle breezes and not sticky material on my legs is so nice.
Outfit #1
Maxi dress from Dillard's (gift from my Mother-in-Love)
White Tank and sweater from CATO
Black Flip flops from Walmart
As I mentioned in the Spring Edition, I have been solely skirt wearing for over four years now and love it. I know it's not for everyone and our decision for this came out of an experience I had while shopping after our first daughter was born. Nevertheless, it's always nice to dress up and look nice when going outside the house. I had a little help this time with the picture taking and not all of them turned out perfectly, but my oldest is learning! And please forgive the fact that some of them are inside. I always prefer natural light to a flash, but with all the rain we've been having – it simply wasn't feasible.
So here are some of my favorite Summer outfits – in a smaller size than I wore during the Spring months!! YAY!!!
Outfit #2
Yellow top, white tank, Maxi skirt and jewelry all from CATO
White and yellow flip flops – WalMart
I love the ease and comfort of maxi skirts, not to mention how long and flowing they are!!
Outfit #3
Top from CATO several years ago
Skirt is I.C.I. brand and I don't remember where it came from, but I think…a fabric store? Maybe?
Necklace and matching oval bracelet from CATO and the other two bracelets courtesy of a sweet friend of mine back home in OK!!
Shoes are braided faux leather Airwalk brand from Target (years ago)
Outfit #4
You may remember this shirt from the Spring Edition. It's so versatile and I love it!
This time I paired with this a more summer skirt from, where else…CATO and a red infinity scarf from WalMart. Although you can't see it, I am wearing a navy blue tank under the shirt as well – also from CATO. I have had these flip flop heels for years and still love them. They are the No Boundaries brand, but honestly can't remember where I bought them. This was the perfect outfit to wear the Sunday before Independence Day.
Outfit#5
Another shirt (CATO) you may recognize from the Spring Edition.
This time I'm pairing it with a nice, flowing, shorter brown skirt from…yep, CATO. You can't tell very well in the photos, because of the opaqueness of the necklace, but it is actually a light sea foam green-type color. The flip flops are ruffled, brown material and from Target (years ago).
Outfit #6
I was pleasantly surprised when I tried on this skirt given to me from my Mom!! It's another size smaller and from the "other" side of CATO!!! WHOOT!
The shirt is an old shirt (CATO) I had, but so soft and comfy that I was thrilled when it worked so nicely with this skirt.
The necklace is the lime-ish green color and the silver bracelets are all from CATO as well.
How do you dress modestly during the Spring? Link up with us and visit my co-sponsors in this series.
Visit my post on Seasonal Skirt Wearing for Little Girls to see how our daughters dress during the summer months!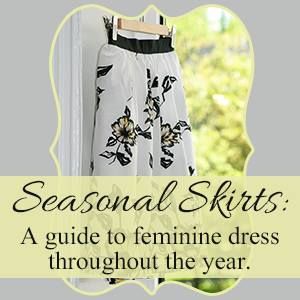 Don't forget to visit my 10 co-hosts for this series! They have some super cute outfits and ideas too!! Be sure to visit Dusty, our fearless leader, at To the Moon and Back – she has an AWESOME GIVEAWAY going on too!
Dusty at To the Moon and Back
Erin at For Him and My Family
Laura at Raising Soldiers 4 Christ
Kyndra at Sticks, Stones, and Chicken Bones
Selena at Look! We're Learning!
Mrs. Warde at Sceleratus Classical Academy
Caroline at The Modest Mom
Melissa at Life Off the Paved Road
Dawnita at Fogleman Forerunner
Hilary at Our Homeschool Studio
The following two tabs change content below.
Annette has been married to her husband and best friend since 2003. Together they are raising their six children to follow the Lord's will, no matter what. Annette longs for the day when she will meet all her angel babies who have entered heaven before her. She enjoys creating fun and engaging printables, unit studies and curriculum for homeschool families. You can follow her crazy life at
In All You Do
where she blogs about marriage, parenting, and homeschooling all while maintaining her sanity. She is also the owner of
Thrifty Homeschoolers
, where she shares free printables and resources from around the web as well as deals on curriculum and homeschooling resources. You can also keep up with her via
Facebook
,
Twitter
,
Instagram
and
Pinterest
.
Latest posts by Annette Breedlove (see all)